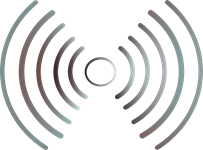 Meet CT Radio Personality
ALLAN CAMP
My first radio station was WHWB in Rutland Vermont, my home town. It was a 1000 Watt Daytimer that broadcast sunrise to sunset. It had a 50,000 Watt FM with its tower below average terrain which isn't good for an FM in terms of coverage area. The AM has gone dark and the FM is now WJJR and has it's tower on Killington mountain which gives it an awesome signal.
I graduated from Grahm Jr. College and came back to Rutland and went back to work at Sewards Restaurant where I had worked all through high school. I had sent out 40 tapes and resumes looking for employment and had no bites. My Grahm Jr. College and Rutland buddy Terry Swain both decided we didn't want to start in our home town, but at this point I knew I had to dig deeper. So I walked into WHWB and asked if I could look at the Standard Rate and Data book that lists every radio station in the country so I could send out more tapes. The lady at the desk was real nice and I started telling her my efforts to get a job and how hard it is when you have no experience. I asked where she lived in town and she said Engram avenue. Oh, you live on the same street as Mr McCormack the General Manager. She said, I'm Mrs McCormack.
She made her husband listen to my air check, a day later the night guy gave his notice. I lucked out and boom, I had my first job.
Bob Bascom was the morning man and sounded awesome, Ed Larson was PD. I had listened to him do a countdown show when I was home sick from school when I was in 6th grade and I was a little star struck to see him in the hall.
Ed Lloyd was on air too. He was smooth and made it look effortless. Jack Healy came on staff, the poor guy I bugged at the station across town all through my high school years. I had learned a lot from him by just watching.
Frank McCormack had two sons Chris and Greg who were a few years younger than me. They both did air shifts on the station and Frank's wife Jean Ann also could fill in on the FM from time to time. It was a great place to start.
The station was across the street from Wilsons Castle on th West Proctor Road. There was a donkey that lived down the street and would sometimes get away and come hang out in the radio station parking lot. On frosty nights when you can see your breath, the donkey would stand under the street light and he would look like a monster with the steam coming out his nostrils. He would sometimes stand by the studio window where we had an old mercury thermometer. I'd look out the window and he was standing right there. Trust me, thats a pretty big surprise when you are not expecting it. I drove by when I went to my high school reunion and found the abandoned building. Sad to see that. Here is the old studio photo.